A festival of colours
21/09/2009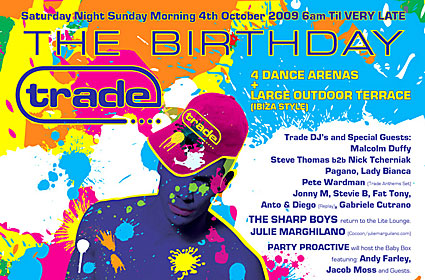 After 19 years Trade might be thought of as an institution, but it's too much of a rebel.
The club that broke the rules returns to Ministry of Sound on Saturday night/Sunday morning 4 October to celebrate it's 19th birthday.

Malcolm Duffy, Steve Thomas, Pagano, Lady Bianca, Pete Wardman, and many others including The Sharp Boys will be on the decks.

Andy Farley and Jacob Moss will host the Baby Box.

The party will feature spectacular choreographed performances, custom-made decor, lazer shows, pyrotechnics and visuals.

The first 500 Trade Babies through the door will be given a commemorative birthday gift.
Become a Trade Baby