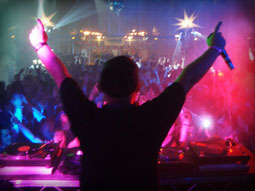 This Saturday Dave plays at Tiger Tiger, Aberdeen.
If you missed Saturdays show catch up on BBC iplayer
Weekly Message - Sunday 12th May
Catch me on Sat 18th May at Tiger Tiger in Aberdeen, 24th May is an Ibiza themed classics party at Halo in Peterborough, on the 26th May I'm playing the mainstage at Birmingham Pride, June 1st I return to Northern Ireland at Quest in Belfast.
If you have a favourite year of clubbing you would like me to feature email my BBC radio show at dave.pearce@bbc.co.uk and tell me the year, 3 tracks from that year and your clubbing memories of that period. The better the stories the more likely we will use your selection.
Catch me every Saturday with the Dance Years on BBC Radio 2 at 10pm for 2 hours of uplifting dance music. If you miss the show you can always listen in on the BBC iPlayer.
BBC iPlayer
.
You can also catch me on Twitter at dj_davepearce.